Join dozens of your peers that have revolutionized the way they estimate. Take your estimating department digital with Steel Erection Bid Wizard   the only Structural Steel Erection Estimating Software on the market made for Erectors by an Erector.
Steel Erection Bid Wizard is a fully functional Windows – based software package. Estimate your bids more quickly and easier than ever before.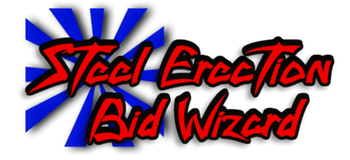 Benefits Of The Steel Erection Bid Wizard
View It All On a Dashboard
When you open Steel Erection Bid Wizard you'll see your dashboard—a list of all your bids and dollar amounts at a glance. Every project that has been activated inside Project Management Wizard will be shown, along with easy-to-read completion percentages.
You'll also see all the General Contractors you have uploaded into system, with their contact information at your fingertips. Access training here too, as well as tips and tricks.
Customize Everything
Bid Wizard is fully customizable for your company. Don't like the terminology for the tasks that are preloaded? Change whatever you want!
Want to add additional tasks? Simply add them and attach production rates to them.
SEBW is very flexible, and 100% control—meaning you can easily tailor it to your company's specific needs.
Easily Adjust Production Rates
Easy-to-adjust production rates… And a simple-to-use price check on your end.
It's never been easier to dial in your company's own unique abilities, and make SEBW price your bids the exact way you need to for your crews' experience.
Don't get us wrong… Our extensive experience in the steel erection industry means your production rates will be very close out of the box. But if you find they're a little bit off, rest assured—you'll have the flexibility to make SEBW your own!
Generate Powerful Reports
Create reports the way you want to see them. Track precise data on all projects and smile as you laser in on future bids.
Need an SOV? Yours will be broken out by area or floors. Need to see projected costs around Workman's Compensation, fringes, general liability and Tax Burden? You'll have those too.
Keep a GC Database
And One-Touch Proposals
How many GCs do you bid on bid day for the same projects? If you're like some companies, that could be up to six or more.
What if you could enter all your GCs into the system—once—and then simply select which ones you want a proposal created for? You can. SEBW will create them to PDF for you so you can fax or email them out.
Not only that, you can adjust percentage up or down for each GC, in case you give some GCs a better price than others.
All this with just a couple clicks of the mouse.
Calculate Overtime
Overtime? No problem. SEBW will calculate it for you—just tell it what you're working and the premium cost.
Being able to see exactly the effect that overtime has on cost and schedule is truly a benefit that becomes very useful when trying to get tight on a bid. In many cases it can decide if you win or lose the bid.
Price By Area/Floor
You can price by area or floor—and have reporting broken out the same way. Or you can have a lump sum bid created… The choice is yours.
Head over to http://steelerectionbidwizard.com and get the demo video today!
Vince Hughes, Creator
Steel Estimating Solutions
Phone: 505-249-2390