Structural Stability of beams and columns. Inappropriate or inadequate connections of beams and columns is hazardous and can lead to collapses and worker fatalities. This section sets forth performance and specification requirements for connecting beams and columns, in order to minimize the hazard of structural collapse during the early stages of the steel erection process.
General
During the final placing of solid web structural members, the load must not be

released from the hoisting line

until [

29 CFR 1926.756(a)(1)

]:

The members are

secured with at least two bolts

per connection, of the same size and strength as shown in the erection drawings.

These bolts are drawn up

wrench-tight

.

The equivalent, as specified by the

project structural engineer of record

, except as specified in

29 CFR 1926.756(b)

of this section.

A

competent person

must determine if more than two bolts are necessary to ensure the

stability of cantilevered members

if additional bolts are needed, they must be installed. [

29 CFR 1926.756(a)(2)

]
Diagonal Bracing
Solid web structural members used as diagonal bracing must be secured by [29 CFR 1926.756(b)]:
At least

one bolt per connection

drawn up wrench-tight.

The equivalent, as specified by the

project structural engineer of record

.
Double Connections at Columns
When two structural members on opposite sides of a column web, or a beam web over a column, are connected sharing

common connection holes

:

At least one bolt with its wrench-tight nut must

remain connected

to the first member; unless

A shop-attached, or field-attached

seat or equivalent

connection device

is supplied with the member in order to (See

Appendix H

to this subpart for examples of equivalent connection devices.) [

29 CFR 1926.756(c)(1)

]:

Secure

the first member.

Prevent the column from being

displaced

.

If a seat or equivalent device is used:

The seat (or device) must be designed to

support the load

during the double connection process.

Before the nuts on the shared bolts are removed to make the double connection, it must be

adequately bolted or welded

to both [

29 CFR 1926.756(c)(2)

]:

A supporting member

The first member
Columns Splices
Each column splice must be:
Designed to resist a minimum eccentric gravity load of

300 pounds

.

Located

18 inches

from the extreme outer face of the column in each direction.

Located at the top of the column shaft. [

29 CFR 1926.756(d)

]
Perimeter Columns
Perimeter columns must not be erected unless:
They

extend a minimum of 48 inches

above the finished floor, to permit installation of perimeter safety cables prior to erection of the next story. [

29 CFR 1926.756(e)(1)

]

They have

two sets of holes

, or other devices that:

Are

42-45 inches above the finished floor

, and also at the

midpoint between the finished floor and the top cable

.

Permit installation of

perimeter safety cables

as required by

29 CFR 1926.760(a)(2)

. [

29 CFR 1926.756(e)(2)

]
EXCEPTION: Where constructability does not allow, the above requirements can be waived. (See Appendix F to this Subpart.)
Shared from: Occupational Safety and Health Administration,
https://www.osha.gov/SLTC/etools/steelerection/siteprep.html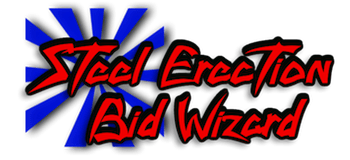 Steel Erection Bid Wizard
Join dozens of your peers that have revolutionized the way they estimate. Take your estimating department digital with Steel Erection Bid Wizard. Only software on the market made for Erectors by an Erector.
Steel Erection Bid Wizard is a fully functional Windows – based software package. Estimate your bids more quickly and easier than ever before.
Benefits Of The Steel Erection Bid Wizard
Reduce the time it takes to estimate by 50% or more

Tried & true production rates for labor, crane & weld time

You can easily adjust production rates to fit your company

More than 300 built-in tasks

Ability to create your own tasks and add new categories




Generate one-touch proposals

Integrate with multiple takeoff software's

Peace of mind