EstiModeling For Steel Erection
Not sure if you have heard the buzz around the industry regarding Estimodeling. I'm here to tell you it is a reality and the time savings for a Steel Erector taking advantage of it is huge. The possibilities are endless.
Back in the first part of 2000 we worked with a fabricator that did a lot of design build work, and they would model projects in SDS2 I would go with them to meetings where they would use the model to give a dog and pony show to the owners of project, with great results I might add. Once the project was awarded I would use the model to help in familiarizing my crews with project which helped them get up to speed and visually see what we were erecting.
Back then I dreamed of a system that would allow me to take all the steel components from the model to get my erection price, after-all the reality is what's in the model, is what is being erected.
I'm very happy to say that now in 2018 it is a reality. My software the Steel Erection Bid Wizard now integrates with Tekla, STRUMIS and SDS2 so right now inside of these software's there is the ability to export all steel components into the Steel Erection Bid Wizard and get your erection price in seconds.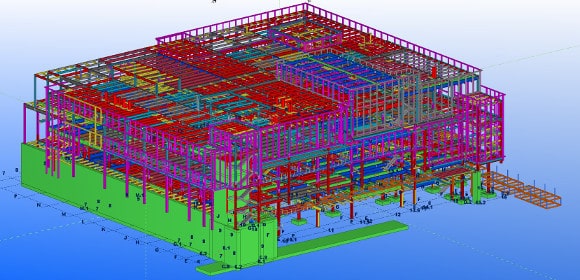 In today's competitive market place our industry is becoming so technologically advanced, those that it embrace it will be making it next to impossible for those that don't, to compete when it comes to bid day. Think about this… the above model has everything that will be erected on site. With some simple standardization you now have the ability to export out every beam, column, brace frame, edge angle, kicker, stair flight, handrail etc… in seconds with a touch of a button, into the Steel Erection Bid Wizard and have your erection price. The real question being, how long would it take you to take this project off?
Design changes? No problem export from new model and have and immediate updated price that can be put side by side to see the cost savings or increase.
Estimodeling Webinar with Tekla Structures, FabSuite & Steel Erection Bid Wizard

(Webinar Date 8/15/2018)
Estimodeling is the process of quickly creating a model for the purposes of generating highly accurate material quantities as well as detailed labor and cost data for use in project estimating.
Estimodeling provides a data-rich 3D model to enable more robust information and truly constructible information as part of a bid package. From bidding to erection, Estimodeling enables you to extract the highest level of accurate quantities with Tekla Structures and import/export information automatically into Trimble's FabSuite solution and Steel Erection Bid Wizard for labor and cost information.
Once the project is awarded, pass the "bid model" to jumpstart detailing and track future changes as well as quantify hours and lifts for erectors using 'Steel Erection Bid Wizard', a partner solution.
This webinar will help you expedite and improve your steel estimating workflow through the discussion of:
What is Estimodeling?
Why you should do it?
What does a complete workflow look like?
Can I really get an erection price from model?
Learn the answers to these question in the above video.
Below are some video's showing the Steel Erection Bid Wizard integration with these industry leading software's Tekla, STRUMIS and SDS2
Tekla
STRUMIS
SDS2
The advancements in our industry is amazing. I'm very grateful to these industry leading software companies for helping to take a dream I had many years ago and make it a reality.
Steel Estimating Solutions
Vince Hughes
505-249-2390
PS… If you are looking to take your estimating process into the 21st century, Steel Estimating Solutions can be a great resource to help you make that happen. I have been doing digital takeoffs since 2001 and have developed a pricing tool (actually, much more than that) called the Steel Erection Bid Wizard. I have helped over 260 Steel Erectors to make the transition and would love to help you as well. Give me a call anytime.
Steel Erection Bid Wizard
Join dozens of your peers that have revolutionized the way they estimate. Take your estimating department digital with Steel Erection Bid Wizard. Only software on the market made for Erectors by an Erector.
Steel Erection Bid Wizard is a fully functional Windows – based software package. Estimate your bids more quickly and easier than ever before.
Benefits of The Steel Erection Bid Wizard
Reduce the time it takes to estimate by 50% or more
Tried & true production rates for labor, crane & weld time
You can easily adjust production rates to fit your company
More than 300 built-in tasks
Ability to create your own tasks and add new categories
Generate one-touch proposals
Integrate with multiple takeoff software's
Peace of mind
Smart Fuel Calculator
Weather Projections